what better way to really see the flower and its parts....
Butterfly Weed, Asclepias tuberosa L.
This orange-yellow perennial blooms in late spring, dying back in winter and returning from the underground tuber each spring. It is a native wildflower, but also grown from seed in home gardens. It is a host for many butterflies including the Monarch.
The tough root of the Butterfly Weed has been used in years past for treating inflammation of the Pleura-(Pleurisy), as well as measles, typhus, fevers and a tonic for the kidneys.
The native species is often lost to diminishing habitat and human disturbance. It is blooming right now in 3 places in our neighborhood.
It is unique among Milkweeds in that the sap is clear and the leaves are alternate. Besides having the inner whorl of petals called the corolla and the outer whorl called the sepals, the milkweeds have a third whorl above the corolla called the corona.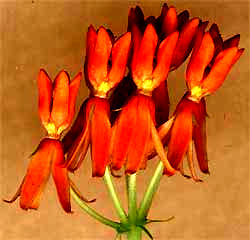 from Backyard Nature
Jim Conrad of Backyard Nature labels a close-up photo of the flower parts and explains how as an insect is attracted to the flower and seeks the pollen, its legs slip into a gland in the center of the flower where the pollen is. A whole "V" shaped part called the pollinarium sticks to the insects leg and is carried by the insect to the next flower where it will come into contact with the stigma and pollination takes place.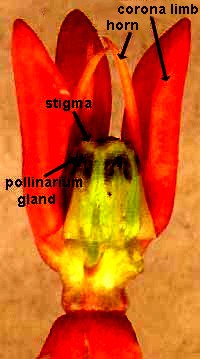 from Backyard Nature