Just this past fall I discovered Zentangles- through Susan McNeill's book Zentangle Basics.
Zentangle-Basics-Suzanne-McNeill
I tried my hand at some of the basic tangles and experimented with them inside of different shapes.
This one I did at Christmas...
I introduced it to my children's art classes as a lesson.
The kids seemed to enjoy it and added alot of unique ideas-especially the younger group.
Just recently, I came across
thebrightowl's Zendala Dares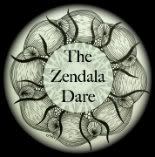 and decided to participate in her latest dare, ZenDon't!
She dared us to do things differently than we would normally do with our Zendala. (Zentangle)
- I have normally don't use color, so I tried several colored gel pens along with my black Micron pen.
-I tried some tangles I'd never used and also made up a few which I've never done before...
One was based on the koru designs from New Zeland
New Zealand-koru
-I didn't fill in every space and I used the space between two parts of the template.
This is my ZenDon't Zendala....